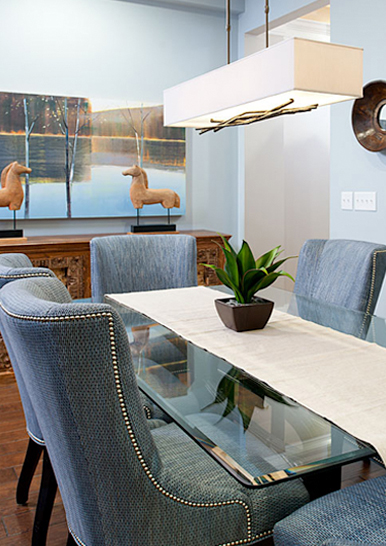 Over the years, Catherine has studied different approaches to design, using techniques developed around the world. This has given her a deeper understanding of our interaction within our environment. The smallest detail in our home or office can have a positive or negative effect. Everything matters! This awareness helps her guide her clients to be conscious of their selections. Our home and office should support our desire for an abundant life!
"Of course, I am still French even after living all these years in our beautiful country," she says. "I cannot help myself, and my accent betrays me! I love introducing a little bit of unexpected 'je ne sais quoi.' Sometimes it is as simple as re-using a piece of furniture or artwork in a different room. All of a sudden it glows in its new location."
Good design is to know when trendy is good or bad.
Turn away from the most popular that will be dated in a couple years, but embrace new technology or a new material. Embracing the trendy can be fun if consciously chosen and easily changed like replacing pillows rather than expensive cabinetry.
Good architecture has integrity and deserves to be respected.
It is important to know when design, or architecture, takes precedence and how to create the balance to enhance the human experience. Above all, design is fun! Our ultimate goal is to make the world more beautiful through your project. We love working closely with your team, or we can bring in ours. Designing a home or office is a collaborative effort among you, the architect, contractor, trades, and consultants. We keep our egos in check and will take anybody's idea that improves the final outcome. Several minds are always better than one. True collaboration is respecting everyone else's input, understanding our role in the project and knowing when to defer to the expert.
We are your advocate.
We are most of all, your advocate and require the utmost professionalism for our partners. Key relationships have been developed with vendors, and we work with only the best to achieve the optimal results for our clients.
When you work with Catherine and Montague Design, you can rest assured that she will strive to make your interior design experience easy and enjoyable.
MEET CATHERINE
VIEW TESTIMONIALS
EXPLORE THE PORTFOLIO
CONTACT THE FIRM